Fairs and Conferences 2012
10th Joint International Conference CLOTECH 2012 on Innovative Materials & Technologies in Made-up Textile Articles, Protective Clothing and Footwear
20-21 September 2012, Warsaw, Poland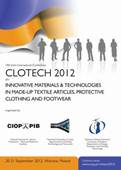 We have a great pleasure to invite you for the 10th Joint International Conference CLOTECH 2012, which will be held from 20 to 21 September 2012 in Warsaw, Poland.
The aim of the Conference is propagation of the newest solutions of materials and technologies in clothing, gloves and footwear production.
The CLOTECH is organized every 2 years and is focused on the popularization of the achievements of the national and foreign scientific institutions in a range of directions for innovation and development of protective clothing, gloves and footwear, smart textiles and clothing, computer techniques in designing and making up clothing, mass customization and rapid prototyping, marketing and competitiveness of textiles in the European market, standardization and certification of textiles and clothing.
The organizers of the CLOTECH Conference are three research institutions:
Central Institute for Labour Protection – National Research Institute,
Department of Clothing Technology and Textronics, Technical University of Lodz,
Department of Design, Footwear and Clothing Technology, Kazimierz Pulaski Technical University of Radom.
More information are available at the Conference website:
www.ciop.pl/clotech2012
First announcement


4th European Conference on standardization, testing and certification in the field of occupational safety and health
June 26-28, 2012, Helsinki, Finland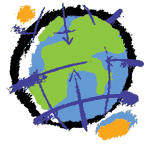 4th European Conference on standardization, testing and certification in the field of occupational safety and health will be held from 26 to 28 June 2012 in Helsinki, Finland.

The conference is organized by EUROSHNET - European Occupational Safety and Health Network, under the heading 'Stakeholder interaction - the key to product safety'.

In keeping with the EUROSHNET conferences in Paris (2005) and in Cracow (2008), the aim of the event is to promote communication and co-operation between all stakeholders as well as to present and share the latest knowledge on how the interaction of the various stakeholders involved in legislation, standardization, testing and certification benefits product safety.

This will enable the experience and knowledge of all players to be networked more effectively for the benefit of product safety in European workplaces.

For more information on the conference please visit the conference website www.euroshnet-conference.eu, which is available in English, French and German.

First Announcement